Jim Bitney, a small forest landowner outside of Enumclaw Washington, uses a portable sawmill to saw and create finished products from native woods such as Douglas Fir, Western Red Cedar and Big Leaf Maple. In addition, he utilizes salvaged urban woods such as Black Walnut, Deodora Cedar, Locust and Oak. His specialty is natural live-edged products that take on the unique qualities of the tree from which they are crafted. Each live-edge piece is used to make one-of-a-kind products such as mantles, shelving, coat racks and rustic furniture. Jim's favorite wood to craft products from is figured, burl and spalted-maple that produces a truly unique product.
In addition, Wabash Wood Products produces kiln dried flooring, tongue-in-groove paneling, siding, trim, and wood turnings including urns.
Jim welcomes custom orders suited to individual needs and preferences and can custom saw and finish to your specifications utilizing your trees or his.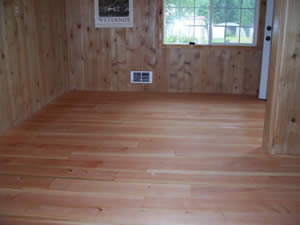 Kiln dried flooring
Wabash Wood Products is open by appointment to discuss your woodworking needs.
Wabash Wood Products
P.O. Box 291
31218 SE 408th Street
Enumclaw, WA 98022
Phone: 360-825-7051
Fax: 360-825-1949
E-mail:
wabash

[at]

nventure [dot] com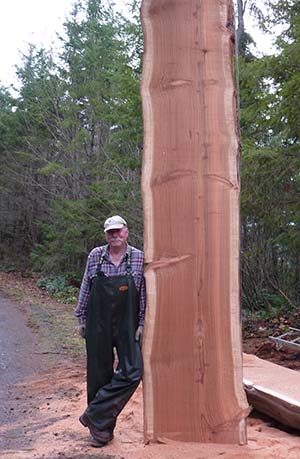 Jim with a large redwood slab that he milled.